About us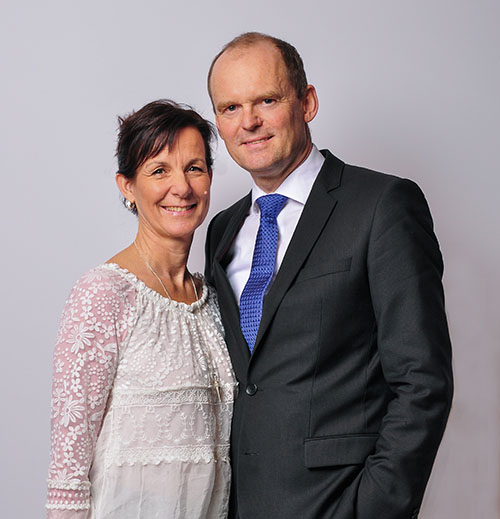 Bernd Wolf: jewelry with an elegantly distinctive design language
"An accomplished piece of jewelry is imbued with a charm that ineluctably fascinates and inspires the beholder. For us, the entire creative process, starting from the moment of opting for a new material via designing the gemstone cuts to the first finished piece, is always exciting and enthralling." (Bernd Wolf)
With his sophisticated collections and their captivating, clear-cut and minimalist design language, Bernd Wolf has quickly conquered the jewelry market. He and his wife, jewelry designer Yvonne Wolf, develop jewelry collections of inimitable beauty that perfectly reflect the spirit of our times.
Bernd Wolf – it's the details that make all the difference
Only a short time after setting up his company, Bernd Wolf was one of the first jewelry manufacturers who established silver with a high-grade gold plating on the market – a material combination that is not only appealing, but also perfectly skin-compatible as well as affordable. In addition to his successful silver collections, the majority of his other jewelry creations are enhanced today with this durable gold plating whose gold content is almost equivalent to that of fine gold. In conjunction with their fascinating, elaborately handcrafted surface texture, the pieces of Bernd Wolf jewelry are simply inimitable, and can easily be combined with one other. Starting from creating variable pieces of jewelry via several stages of developing innovative designs to his distinct, multi-row cord necklaces and his unique bracelet collection featuring delicate cords, Bernd Wolf has always blazed new trails. In addition to concerning himself with the technical details, he also engages with the symbolism of jewelry, its vocabulary of forms, and the respective meanings. What also plays an important role for Bernd Wolf while designing his pieces is the effect of the gemstones used. This is why he regularly travels abroad to select stones of particularly high quality and beauty. Diamond, carnelian, kyanite, onyx, pearls, smoky quartz, black spinel, turquoise and sponge coral account for the great appeal of his creations and their distinctive design language. Each piece of Bernd Wolf jewelry is unique and tells its own little story. Offering an affordable, unlimited Lifetime Service, Bernd Wolf guarantees you lifelong pleasure with your piece of jewelry.