Padme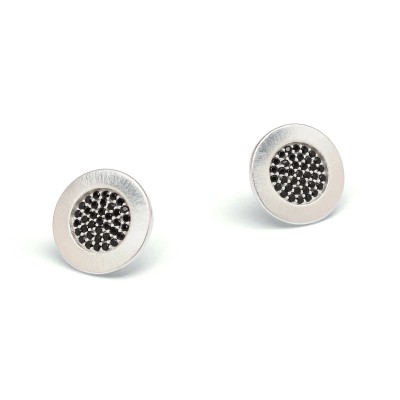 Description
Details
| | |
| --- | --- |
| Clasp: | clasp |
| Raw material: | 925 Sterling Silver |
| Measures: | 13mm |
| Jewlery type: | Ear stud |
| Material: | black Spinel |
| Surface material: | 925 Sterling Silver |
Dieses Schmuckstück ist mit einer gewöhnlichen Steckerfeder ausgestattet. Hiermit lässt sich der Ohrschmuck sehr einfach durch verbinden der Steckerfeder mit dem Stift verbinden

Handmade in germany
Our pieces are designed and created in germany.
In the manufacturing of your new piece of jewelry we trust our highly experienced goldsmiths in Freiburg. Only with the direct collaboration at our manufactory we can rely on the continuous high quality on our products.
Hochwertige und handwerklich präzise Verarbeitung
Unsere Goldschmiede fertigen Ihre neuen Schmuckstücke mit Liebe zum Detail und großem handwerklichen Geschick.
Durch die Auswahl von Materialien in besonderer Qualität und die Verwendung von ausgefeilten Werkzeugen und Verarbeitungstechniken kommen wir unserem Ziel nahe, für Sie perfekte Schmuckstücke anzufertigen. Nach der Fertigstellung und vor dem Versand an Sie wird jedes Schmuckstück noch einmal sorgfältig überprüft, damit Sie uneingeschränkt Freude mit Ihrem neuen Schmuckstück haben.

wearing comfort
Schon beim Entwurf neuer Schmuckstücke steht für uns der Tragekomfort im Fokus. Ein gelungenes Schmuckstück fühlt sich gut an und zaubert beim Blick in den Spiegel ein Lächeln auf Ihr Gesicht . An vielen Details haben wir Jahre gearbeitet, um gemeinsam mit unseren Lieferanten perfekte Materialkombinationen für Sie zu finden. Wir wollen, dass Sie mit Ihrem neuen Lieblingsschmuckstück von BERND WOLF ein angenehmes Gefühl verbinden und jederzeit Freude haben.

Joy for a lifetime
Lifetime Service
Aufgrund der hohen Qualität unserer Verarbeitung und der edlen Materialien, die wir für unsere Schmuckstücke auswählen, bieten wir Ihnen für unser gesamtes Sortiment LifetimeService. Dies ist für Sie eine Versicherung, die bereits im Kaufpreis enthalten ist.
Durch diesen besonderen Service wird Ihr Schmuckstück auch nach vielen Jahren kostengünstig in fast neuwertigen Zustand versetzt. Uns liegt es am Herzen, dass Sie unbegrenzte Freude mit Ihren Lieblingsschmuckstücken von BERND WOLF haben.
Folgende Preise setzen wir für den LifetimeService an:
Einfache Ohrstecker 10,00 €
Ringe und Ohrschmuck 20,00 €
Halsschmuck und Armschmuck 30,00 €
zzgl. Versandkosten
Der LifetimeService kann wahlweise über Ihren Händler oder direkt bei Bernd Wolf Deutschland abgewickelt werden:
Bernd Wolf
Wittentalstraße 3
79252 Stegen
+49 7661 - 98 66 66

Free Shipping
Ab einem Einkaufswert von 100€ sind Bestellungen für Sie versandkostenfrei per DHL.
Zusätzlich können sie über DHL Express sich den Artikel auch per Express zustellen lassen. Wählen Sie dies einfach im Bestellabschluss entsprechend aus.

Bernd Wolf jewlery box
All our pieces are delivered in the premium delivery box. This makes the unwarpping a special moment.

selected materials
Our goldsmiths select only the best materials for every single piece of BERND WOLF jewlery. Only perfectly matching gem stones, pearls and corals are being used for your new favorite piece of jewelry. After this precise choise of special natural material we create unique pieces who give a special look to the woman wearing it.